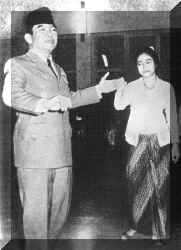 Indonesia's 1st President Soekarno with his daughter Megawati

Megawati Soekarno Putri, daughter of Soekarno and Indonesia's 4th President
-By Roy Mark
JAKARTA, 16-Feb-04: It was reported last month that Indonesia's presidential election has turned into a family affair. The current president, Megawati Soekarnoputri is standing for reelection, opposed by among others, her brother Guruh Soekarnoputra, and her sisters Rachmawati Soekarnoputri and Sukmawati Soekarnoputri. "Mega" as the president is affectionately called, is opposed by brother "Guruh" within Mega's own political party. Mega's two sisters are opposing her from two rival political parties. Not to be outdone, Megawati's youngest sister, Diah Mutiara Sukmawati Soekarnoputri has now declared her candidacy to replace her big sister. Sukmawati is the head of Marhaenisme Indonesian National Party.
The five sibling candidates are the offspring of Indonesia's founding president Soekarno.
Alas, Soekarno's brood of presidential candidates are not alone in their quest for their father's former job. A daughter of Soeharto, Indonesia's second president is also a candidate. Siti Hardiyanti Rukmana has been nominated to pick up the torch of her father's 32-year bloody dictatorship.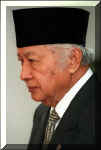 Indonesia's 2nd President Soeharto