Days of Living Dangerously
By Roy Mark, May 1998
It has been an interesting week. After the U.S. Embassy strongly recommended that U.S. citizens evacuate Indonesia, I decided that I needed a vacation in Thailand. It was impossible to get a commercial flight out of Indonesia. The embassy "organized" chartered evacuation flights from a military airport in Jakarta. On Friday we were to meet at the Embassy's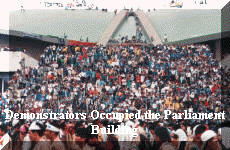 American Club at 11:30 p.m. With some rioting still taking place, I was concerned about making the cross-city trip at that hour, so I arrived at 7:30 p.m. We left the club in the wee hours of Saturday morning. An Indonesian military escort accompanied our busses. Once at the airport, we were told that there were 800 seats available on two airplanes and that there were 1,500 people wanting to leave. We were also told that the Indonesian exit tax of Rp.1,000,000 (approx. $95) had to be paid in cash. I did not have the 1mm Rupiah, so I was returned to the American club. We arrived back at the American club at 02:30 and were told to go home. So much for concern about a cross-city journey late at night.

Phase two of the evacuation was "planned" by the embassy for Saturday. Knowing that I would need Rp.1,000,000 in cash, I spent Saturday looking for cash. Every bank in Jakarta was closed. Many ATM machines had been looted and destroyed during the riots. Many were behind locked doors. I decided that I would risk a trip to the International Airport since surely there would be Banks open and ATM machines available at the Airport. The banks were closed. There were many ATM machines available, but every one was void of cash. Cash was in such short supply, that each machine had been emptied hours before. I later talked to a man that had a relative in the U.S. send him money via Western Union, only to find out that Western Union's offices were also closed. After about 5 hours of searching for cash, I returned home and borrowed Rp.1,000,000 from a Indonesian friend.
Saturday's evacuation was less organized than Friday's. We met at the American Club at 4:00pm and arrived at the airpo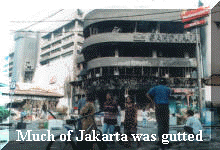 rt about 7:00pm. After my long search for Rupiah, I was astonished to be boarded without any immigration control or the requirement to pay the Rp.1,000,000 tax. The aircraft chartered by the embassy was a Cathay Pacific 747. Seating was assigned at random and I was fortunate to be assigned a first class seat. That was the only thing that was "first class" about this DISorganized evacuation. By the way, the government doesn't give anything away. I will be charged $450 for that flight. That is 2 to 3 times what a commercial flight would have cost. I did however save about $95 in exit tax, so it wasn't so bad.


I arrived back in Jakarta Sunday afternoon. Since I did not pass immigration control on my way out of the country, my passport did not have the proper exit "chop." The immigration officer told me that I couldn't enter Indonesia because my passport was not in order. I presented him with Rp. 100,000 and he advised me that with an additional Rp. 100,000, my passport would be "in order". I reentered Indonesia without the exit "chop" or an entry "chop," so officially I never left the country. Corruption in Indonesia continues under the Habibi presidency. Things are getting back to normal here. Banks and most businesses are now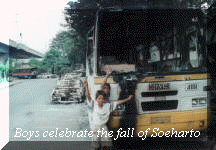 open. The students have been forcibly removed from the parliament building. Former President Soeharto's son-in-law, Lt. Gen. Prabowo, has been removed from his post as head of the security forces and reassigned to head the military's staff school. I considered Prabowo a crazy man and a wild card. Prabowo's command was responsible for the shooting of the students the week before. He is also rumored to have ordered the abduction and torture of several human rights activists without notifying his superiors. Some of the activists are still missing and most probably dead. If we were to have a coup, I figured that Prabowo would lead it. Prabowo's actions then were directly responsible for the riots and therefore nepotism was directly responsible for the events that toppled Soeharto. There is an Allah.
President B.J. Habibi is a Soeharto crony. He was orphaned as a teenager, and taken in by Soeharto. Soeharto's children are like brothers and sisters to Habibi. He was educated in Germany, earning a P.H.D. in engineering (remember, Jimmy Carter is an engineer) and returned to Indonesia over 20 years ago to serve in Soeharto's cabinet. He served in various cabinet positions until March when he was appointed vice president. "Appointed" is the proper word even though it was called an election. There has never been an election (as we define the word) in Indonesia. By the way, I find it difficult to advocate direct presidential elections in Indonesia when we in the United States don't have that right. Our Electoral College elects our president just as Indonesia's Consultative Assemble elects their president. The difference of course is that U.S. Citizens that bother to vote have some say as to how the Electoral College votes, but Indonesian citizens have no influence on the Consultative Assembly. The assembly has always been hand picked by Soeharto. I expect little real change in Indonesia under Habibi, so I do expect that eventually we will go through this exercise again.